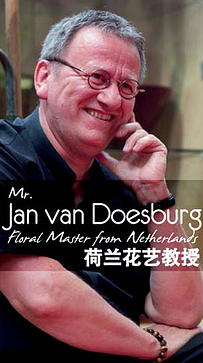 Mr. Jan van Doesburg
Seats are limited!


Register by 18th of Sept
Early Bird Special - RM 1,980.00
Download Registration Form Here
Register Online Click Here
Course fees - RM 2,180.00
Above fees inclusive of
• Refreshment
• Lunch
• Course Materials
• Certificate Of Accreditation
Please bring along your own tools and camera.
DFA Instructor Training Program


Dutch floral design is highly regarded throughout the world. Accredited by the European Floral Design Academy, the DFA Instructor Training Diploma Program aims to nurture teaching and floristry skills amongst participants. Participants will be trained to ultimately conduct professional and high quality DFA floral design courses.



3 days workshop

:
REGISTER NOW for an insightful 3-day workshop with Mr. Jan van Doesburg ( renowned Floral Designer and Senior Lecturer from STOAS University of Applied Sciences and Teachers Education, Netherlands ) who will provide an informative session as follows :
Introduction of the Total Diploma Line System
Orientation, demonstrations and presentations on all DUTCH FLOWER ARRANGEMENT (DFA) / ADVANCED DUTCH FLOWER ARRANGEMENT (ADFA) principles of design, colour combinations, techniques and subjects
Practical, hands-on training sessions with participants, to develop and further refine basic instructional skills
No specific entry requirements for enrolment into DFA classes. Courses leading to DFA examination are suitable for those who are in the field of floristry or have an interest in pursuing a career in floristry.
Venue : No. 70 A, Jalan SS 15 / 4, Subang Jaya, 47500 Selangor, Malaysia.
( Near Taylor's College )
Click here for Location MAP
Date : 04th, 05th and 06th of October 2013 ( Fri, Sat & Sun )
9.30 am           Workshop session

1.00 pm           Lunch Break

2.00 pm           Workshop session

3.15 pm           Coffee break

3.30 pm           Students hands on practical
( ONE per day )

4.30pm          Instructor's Commentary                  

5.15 pm           Workshop ends

in collaboration with :


Organised by :






Video 01






Lee Flower Design Academy Sdn. Bhd.  ( Reg # : 798753-V )
No. 70
A
, Jalan SS 15 / 4, Subang Jaya, Petaling Jaya, 47500 Selangor D., E., Malaysia.
Tel : +603 - 5637 0668     ||     Tel : +603 - 5637 0778     ||     Fax : +603 - 5637 6118 
Email : info@lfda.my     ||     URL : LFDA.MY